Guidelines for Development in Reston Transit Station Areas
The Community Revitalization Section of the Department of Planning and Development (Formerly: The Office of Community Revitalization), in coordination with the Reston Urban Design Advisory Group, produced the Guidelines for Development in the Reston Transit Station Areas (TSAs) to support the implementation of the Reston Comprehensive Plan amendment of 2014. The Guidelines provide detailed urban design and streetscape information to complement the existing Comprehensive Plan and apply to development proposals located within the boundaries of the three Reston Transit Station Areas (see map below). They are intended to be used by citizens, developers, land owners, designers, Fairfax County staff, the Fairfax County Planning Commission, and the Board of Supervisors when either proposing, designing or reviewing development proposals in the TSAs.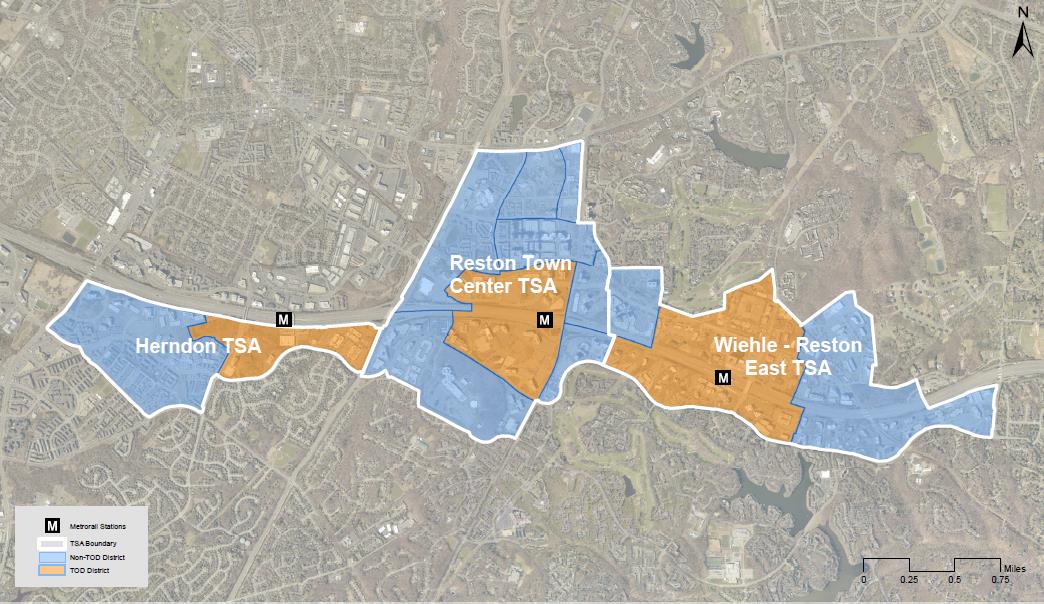 Purpose of the Guidelines:
The Guidelines for Developing in the Reston TSAs (Guidelines) build upon the Urban Design Principles found in the Plan and provide strategies for implementing these principles, direction for applicants and designers proposing to develop in the Reston TSAs, and guidance for those reviewing proposals. They are intended to further the goals of the Plan rather than prescribe specific standards.
The Guidelines build upon the urban design vision of the Comprehensive Plan for Reston including:

Establishing a sense of place for the TSAs while respecting surrounding neighborhoods
Improving connectivity and fostering walkability
Designing sustainable environments

The Guidelines are intended to:

Enhance the goals of the Comp Plan for the Reston TSA's
Aid developers, staff, and the community during the development process for Reston TSA applications
Guide the development of public projects in the Reston TSA's including streetscape and parks

The Guidelines are not intended to:

Act as prescriptive standards or ordinances
Replace established Comprehensive Plan Policies or existing HOA covenants, process or guidelines
Apply to areas outside of the Reston TSAs